Free Choice Minerals - Equine Solutions Catalog Page 4



ABC's Free Choice Minerals Kits
Is your horse eating dirt?
WHY GUESS WHAT YOUR HORSE NEEDS?
The variations of condition and stress have shown that the demand for micronutrients is constantly changing. Force feeding micronutrients often overloads the liver and kidneys, which need to be at full capacity during high physical output. The serious competitive horse owner should not guess at the micronutrient requirements of their horse.
FREE CHOICE STRESS SYSTEM INCLUDES
3 - 2 Hole Feeders

A Mix (Vitamins A,D&E) -2.5 pounds

BVC (B Complex Vitamins) - 2.5 pounds

Detox - 2 pounds

Redmond Salt -5 pounds

Rush Creek Mineral - 3 pounds

Ts Mix (Trace Minerals/Selenium) - 4 pounds

Item No. 883bag Free Choice Stress System PRICE: Current Pricing is listed in the Shopping Cart.
See Catagories on the Left Side in alphabetical order, as they are links to sizes and prices and
the BUY NOW button. Click on the little blue grocery bag.
ABC's free choice minerals are economically used in combination with ABC's Plus.
Why would my horse need free choice minerals & vitamins?
A MIX
A Mix is needed & used if animals are fed older feed stuffs (hay or grain) that through oxidation or artificial drying have lost their vitamin content.

A Mix is needed when grass/pasture is lush and may be high in nitrates.

A Mix is also high in Vitamin D. Confined animals with inadequate sunlight will use A Mix.

A Mix is consumed due to inclement weather.
BVC
BVC is needed & used by animals that are under stress.

Animals that are over worked, over heated, under fed (poor quality feeds) or drinking poor quality water cannot adequately manufacture B Vitamins.

BVC is consumed if an animal is injured.

BVC is consumed if an animal has parasites.
Ts MIX
Ts MIX is needed & used by animals that are moved from show-to-show, barn-to-barn or track-to-track because of hay and grain variations.

Ts MIX is normally needed & used when feeding older hays.

Ts MIX is consumed many times on lush, immature grass/pasture because trace minerals are not available from the plant.
Take Me To More Minerals Products...



Is your horse eating dirt?

Testimony -- Our FC Stress System order arrived and our huge 18 hand Friesian, Odie, has,
upon slurping down several of his "choices", totally quit eating dirt. This is a great outcome.
Not only do we now not have to worry about a colic caused by ingestion of sand,
clay or dirt but our paddocks are no longer cratered as he used to dig down over a
foot to get to whatever he needed.
thanks. Our Friesian has stopped digging completely I'm happy to say.
He looks like polished obsidian now.Mike R. South Carolina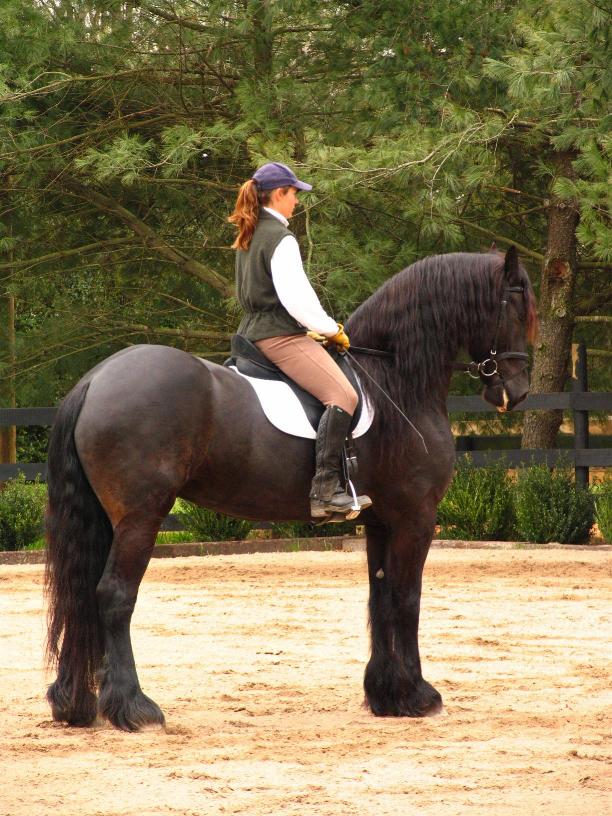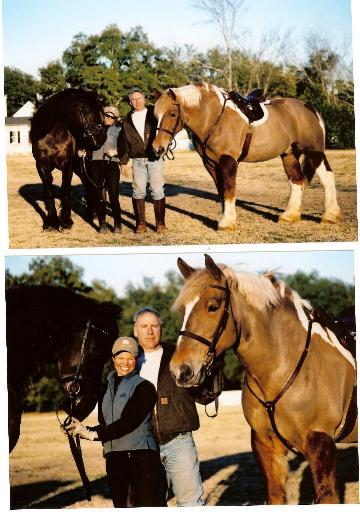 ODIE -------------------------------------ODIE & BEEFY

---

Frequently Asked Questions -
Q. Why are my horses going through so much A-Mix (364) and BVC Mix (732)? Can they overdose?

A. Consumption of minerals will be high without ABC's Plus (762). Horses tend to go through a lot of the Free Choice Vitamins
and Minerals especially the A-Mix and BVC Mix when our program is first introduced. Other indications include: change
in weather (heat wave or cold snap), feeding older feed stuffs (hay or grain), when grass/pasture is lush and high in nitrates,
hay quality, ubadequate sunlight, inclement weather, animal is under stress (internal or external), poor water quality, injuries,
or parasites. Horses will only take as much as they need. If their bodies are not deficient, they will not touch the
free choice vitamins and minerals.

Testimony: ABC PLUS - My 2 older horses( 27 y. o this spring) have never looked shinier or better in their lives since being
on it along with the free choice Redmond salt and minerals. It is terrific. Thanks so much for an excellent natural product
for my horse family. Grace, NY

You can contact us by Snail Mail at: